PRZEŁĄCZNIKI KVM DO TERMINALI ZE ZŁĄCZAMI USB I VGA
FUNKCJONALNOŚĆ
The UNIMUX™ USB KVM switch allows a user to control up to 32 USB computers with one USB keyboard, USB mouse and VGA monitor. Dedicated internal microprocessors emulate keyboard & mouse presence to each attached CPU 100% of the time so all computers boot error-free.
High quality construction.
Features NTI's patented true autoboot USB switching – all attached USB PCs, MACs and SUNs can be booted simultaneously.
Compatible with USB-enabled PCs.
Compatible with SUN T1000, SUN 1000, SUN V210, SUN Fire™ V240, SUN Fire V20z, and other USB-enabled SUN computers.
Compatible with MAC G4/G5 and Xserve. Supports MAC soft (keyboard) power-on.
Crisp and clear 2048x1536 video resolution.
Fully compliant with USB standards (1.0, 1.1).
USB MAC and SUN start-up keys are supported.
SUN extra keys are emulated on USB keyboards with Windows keyboard layouts.
Available with RS232 control option (8-port model only).
Supports international keyboard layouts in auto-detection mode.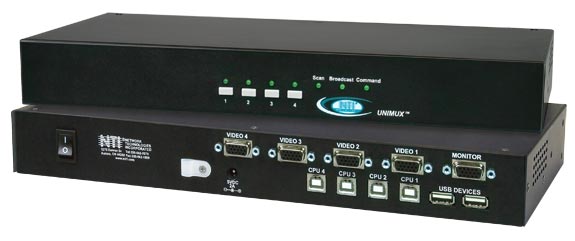 SPECYFIKACJA TECHNICZNA

Hosts
Female 15-pin HD and female USB Type B connectors.
Supports USB-enabled PC, SUN and MAC computers with VGA video.
Multiplatform support: Windows 2000/XP/Vista/7/8/10, Windows Server 2000/2003/2008/2012/2016/2019, Solaris, Linux, FreeBSD, and MAC OS 9/10.
Any legacy PS/2 or SUN computer can be connected by using a USB-PS2-R or USB-SUN-R adapter.
Monitor
Crisp and clear resolution up to 2048x1536.
Female 15 pin HD connectors.
A multiscan VGA monitor is required to display the different video outputs from different platforms.
Bandwidth is 150 MHz.
MTBF
UNIMUX-USBV-2 : 73,280 hrs.
UNIMUX-USBV-4O : 75,190 hrs.
UNIMUX-USBV-8O : 60,900 hrs.
UNIMUX-USBV-16O : 39,250 hrs.
UNIMUX-USBV-32O : 39,250 hrs.
Certyfikaty
CE, RoHS

CE available on all models except UNIMUX-USBV-2.
Warranty
Zasilanie
230 VAC at 50 or 60 Hz via AC adapter for 2-, 4-, 16-, and 32-port models.
230 VAC at 50 or 60 Hz via IEC connector for 4-port with RS232 option and 8-port models.
Power Consumption:

UNIMUX-USBV-2 : 5W
UNIMUX-USBV-4O : 5W
UNIMUX-USBV-8O : 10W
UNIMUX-USBV-16O : 15W
UNIMUX-USBV-32O : 15W
Devices
Female USB Type A connectors.
Compatible with most USB keyboards and mice, including wireless.
Keyboard and mouse are hot-pluggable.
Supports two USB devices directly connected.
Supports up to eight USB devices using USB hubs (not included).
Wymagania środowiskowe
Temperatura pracy: 0°C do 38°C
Temperatura przechowywania: -30°C do 60°C
Wilgotność względna pracy i przechowywania: 17 do 90% bez efektu kondensacji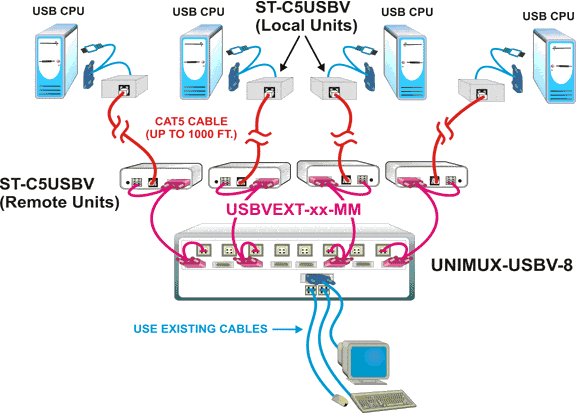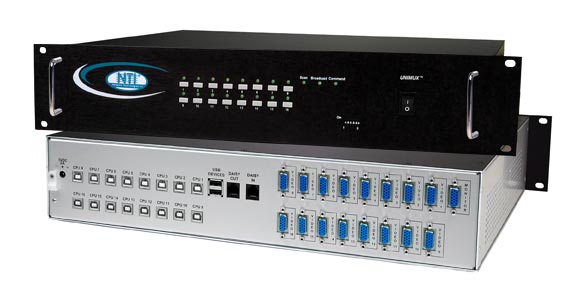 Control

Keyboard
Use the keyboard to command the switch box to select ports or configure the SCAN delay.
Front Panel Interface
Touch a button and be connected to a computer, or change modes of operation.
LEDs indicate currently selected port and mode of operation.
On Screen Display (OSD)
Select computers by name with the On Screen Display (OSD) option. Not available on the 2-port switch.
Use keyboard or mouse to operate the switch from menus superimposed onto the monitor.
Shows names of computers on cascaded switches up to 152 ports.
Names can be up to 12 characters long.
Power status of each computer is displayed.
View usage statistics – power-on cycles and hours of usage.
Helps screens assists users with the OSD.
Modify the size and position of the OSD.
OSD is built into the switch-no need to install additional hardware or software.
OS and software-independent.
Security
Advanced security included with OSD option.
Each user password can be up to 13 characters long, and each switch can store up to 63 users.
Administrator can enable or disable all security features and select which computers each user can access.
Once security is enabled, a user or administrator must login in order to access any of the computers connected to the switch.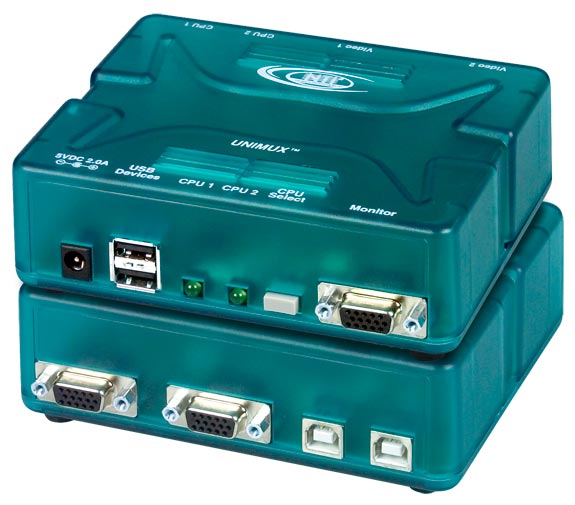 Optional - RS232 Control

Control
Female DB9 connector.
Baud rate 300 through 9600, DIP switch selectable.
Use DIP switches to address up to 15 units, all of which can be daisy-chained and controlled by one serial port.
Seven segment displays show what input is connected to each output.
Commands
RS - causes switch to reset so that IN1 connects to OUT1, IN2 connects to OUT2.
CS - causes one INx/OUTx connection to occur.
CA - causes all inputs to connect to specified output.
RO - reads what input is connected to specified output.
RU - reads size of matrix, reports number of inputs and number of outputs on specified switch.

Optional - PS/2 to USB Adapter

The USB-PS2-R adapter connects a legacy PS/2 computer to an NTI USB KVM switch.
Two female USB Type A and two male 6-pin miniDIN connectors.
One-meter male USB Type A to male USB Type B cable is included.
Dimensions WxDxH (in): 2.4x4x1.1

Optional - SUN to USB Adapter

The USB-SUN-R adapter connects a legacy SUN computer to an NTI USB KVM switch.
Two female USB Type A and one male 8-pin miniDIN connectors.
One-meter male USB Type A to male USB Type B cable is included.
Dimensions WxDxH (in): 2x3.7x1.1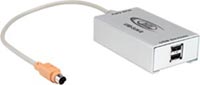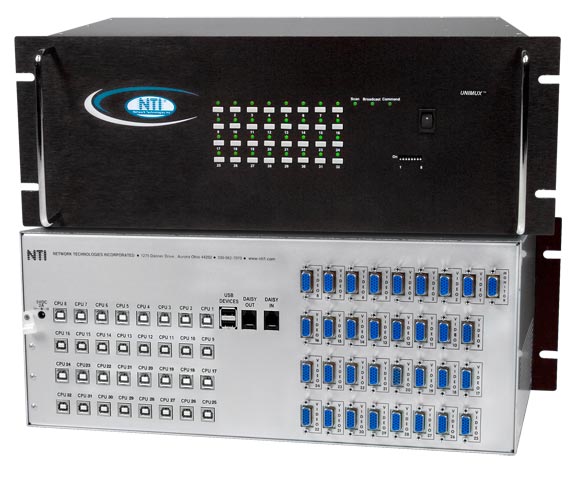 Zestawienie oferowanych urządzeń

Nazwa

Nr katalogowy

Instrukcja obsługi

Karta katalogowa

USB KVM Switches - 2 of Users
Desktop Size: WxDxH (in.) 5.2x4.2x1.6
Rack Units N/A

UNIMUX-USBV-2

USB KVM Switches - 2 of Users
Desktop Unit: N/A
Rack Units 1RU - Rack Size WxDxH (in.) 19x10x1.75

UNIMUX-USBV-2R

USB KVM Switches - 4 of Users
Desktop Size: WxDxH (in.) 13.3x5.9x1.75 (without supplied rackmount kit)
Rack Units 1RU - Rack Size WxDxH (in.) 19x5.9x1.75 (with supplied rackmount kit)

UNIMUX-USBV-4O

USB KVM Switches - 8 of Users
Desktop Size: WxDxH (in.) 13.3x5.9x1.75 (without supplied rackmount kit)
Rack Units 1RU - Rack Size WxDxH (in.) 19x5.9x1.75 (with supplied rackmount kit)

UNIMUX-USBV-8O

USB KVM Switches - 16 of Users
Desktop Unit: N/A
Rack Units 2RU - Rack Size WxDxH (in.) 19x10x3.5

UNIMUX-USBV-16O

USB KVM Switches - 32 of Users
Desktop Unit: N/A
Rack Units 4RU - Rack Size WxDxH (in.) 19x10x7

UNIMUX-USBV-32O

USB KVM Switches with RS232 Control - 8 of Users
Desktop Size: WxDxH (in.) 13.3x5.9x1.75 (without supplied rackmount kit)
Rack Units 1RU - Rack Size WxDxH (in.) 19x5.9x1.75 (with supplied rackmount kit)

UNIMUX-USBV-8O-RS
Kabel z wtykami: "męskimi" VGA,
i "męskimi" USB A na USB B

Nr katalogowy

Długość

USBVEXT-6-MM

1,8m (6 feet)

USBVEXT-15-MM

4,5m (15 feet)