VIDEO PRZEŁĄCZNIK Z PORTAMI 4 x HDMI, STEROWANIEM IR, RS232 LUB AUTOMATYCZNYM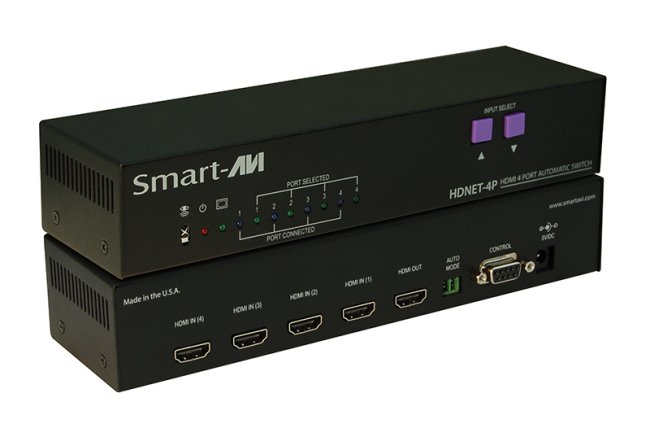 FUNKCJONALNOŚĆ
With SmartAVI's HDNET-4P it is now possible to connect up to four HDMI devices to one display screen for easy switching between sources. Transmit high definition sources such as BluRay players, gaming consoles, computers or cable receivers effortlessly while viewing on a single HDTV monitor.
The HDNet-4P offers an automatic switching mode, and when configured as an automatic switcher, it has the ability to switch to a selectable secondary input upon powering off of the primary input. HDNet-4P will automatically switch to the next device when the higher input is powered off. This allows the user to control multiple devices with the HDNet-4P.
RS232 switching control
IR switching control
Front panel switching control
EDID learning of any monitor
Maintains 480p, 720p, 1080i and 1080p video formats
Supports HDMI 1.3 digital audio format, LPCM/Dolby-AC3/ DTS7.1/DSD
ATC & HDCP compliant
Connect four HDMI components to one HDTV monitor
Supports DVI-D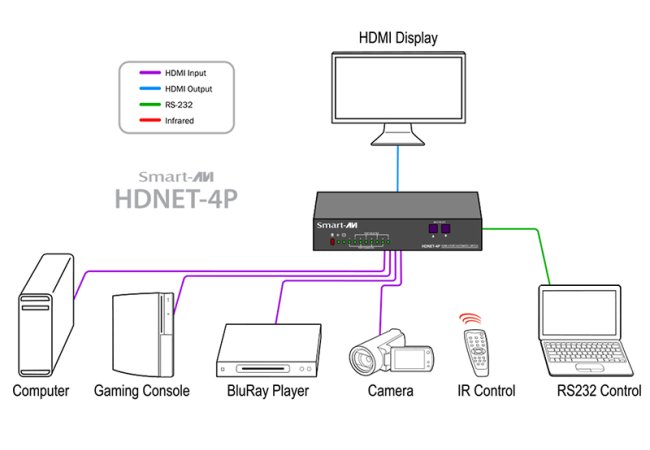 VIDEO

Video Amplifier Bandwidth

1.65GBps

Input Video Signal

v1.2

Input DDC Signal

5 volts

Single Link Range

1080p

HDMI Connector

HDMI Type A 19 pin female

CONTROL

Direct

2 front panel buttons

IR

3.5mm connector with 38khz

RS232

Female DB9 @ 9600bps

OTHER

Power Requirements

5V DC

Dimensions

9.1" W x 1.75" H x 2.5" D

Weight

2.5 lbs.
Zestawienie oferowanych urządzeń

Nazwa

Nr katalogowy

Instrukcja obsługi

Karta katalogowa

HDMI 4x1 Automatic Switch.
Includes: [HDNET-4P & (PS5VDC-2A)]

HDNET-4PS