KONTROLER / STEROWNIK ŚCIAN WIDEO CZTERO-MONITOROWYCH - MULTIFORMAT 4K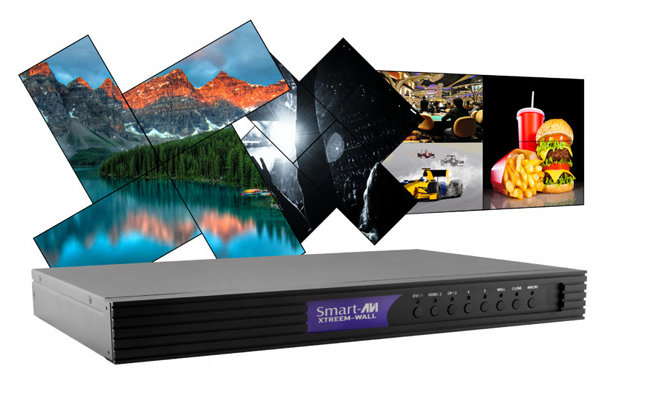 FUNKCJONALNOŚĆ

The XTREEM-WALL is SmartAVI's easiest andmost effective solution for building creatively configured video walls. With multi-format inputs for video resolutions up to 4K (3840x2160 @ 30Hz), the XTREEM-WALL sends stunning multiscreen imagery to four connected HDMI displays in 1080p Full HD (1920x1080 @ 60Hz) output.
Best of all, the XTREEM-WALL is highlycompatible with the most popular displays on the market, and features a variety of stunning video wall modes bound to attract patrons and onlookers to your business or exhibition!
INPUT: (1) DP, (1) DVI-I, (1) HDMI 4K Input
OUTPUT: (4) 1080p HDMI, (1) HDMI Local Loop
Input up to 4K (3840×2160 @ 30Hz)
Output up to 1080p (1920×1080 @ 60Hz)
Creative configuration modes, including: Full Video Wall | PIP | POP | Flip
Supports VGA & Y/Pb/Pr when paired with a DVI-I adaptor
Includes IR remote control & receiver.
Control over web console or Android apps
Plug-and-play for immediate use.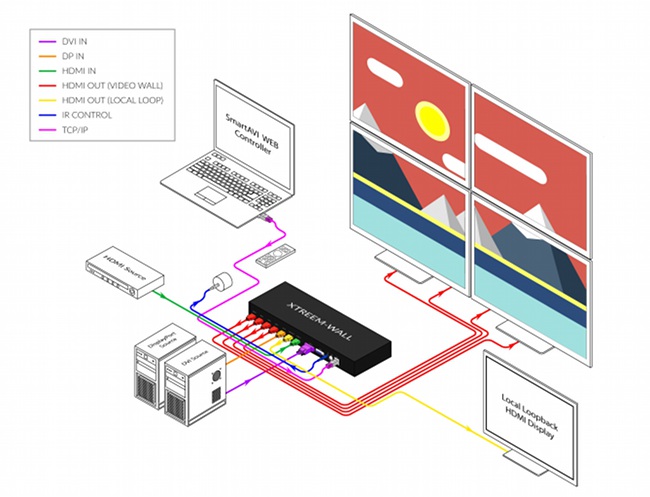 VIDEO & AUDIO

Format

DP, DVI-I, HDMI

Video Input

(1) DP; (1) DVI-I; (1) HDMI
*VGA & Y/Pb/Pr support w/ DVI-I adaptor

Video Output

(4) HDMI (1) HDMI local loop back

Input Resolution

Up to 4K (3840×2160 @ 30Hz)

Output Resolution

Up to 1080p (1920×1080 @ 60Hz)

Audio Input/Output

HDMI Digital Audio

Compliance

HDCP Compliant

CONTROL

Front

Front-panel tactile switch buttons

IR

RMT-XW infrared remote control with IR-EYE receiver

Network

Web control interface

OTHER

Power

230 VAC, PS12VDC3.33A

Max. Consumption

20 W

Dimensions

17.0" W x 1.9" H x 10.8" D

Weight

6.95 lbs (3,2 kg)

Storage Temp.

-4 to 149 °F (-20 to 65 °C )

Operating Temp.

32 to 122°F (0 to 50 °C )

Humidity

Up to 85% (No condensation)
Zestawienie oferowanych urządzeń

Nazwa

Nr katalogowy

Instrukcja obsługi

Karta katalogowa

4K IN-HD OUT HDMI/DP/DVI-I Video Wall Controller.
Includes: [XTRW, IR-EYE3, RMT-XW & (PS12VDC3.33A)]

XTRW-S