EXTENDER KVM Z PORTAMI DISPLAYPORT 4K, USB I AUDIO, ZASIĘG 100m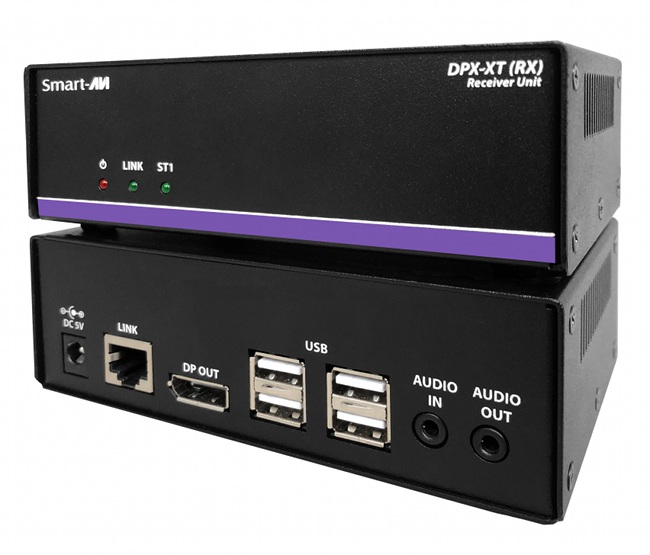 FUNKCJONALNOŚĆ

The DPX-XT is an extender supporting DisplayPort video signals at resolutions up to 4k/30Hz, with bi-directional audio and fully-transparent USB 2.0 up to 330ft (100 m).
The DPX-XT is the first extender on the market to feature DP 4K/30Hz, USB 2.0, and full KVM extension on one cohesive system. Its DisplayPort 4K (3840x2160 @ 30Hz) video output is optimized for HD monitors with crystal-clear picture; excellent for detail-driven work.
The DPX-XT extends fully-transparent USB 2.0, supporting keyboard, mouse, flash-drive, digital cameras, printer(s) and a wide variety of other USB 2.0 devices!

Extends DisplayPort 1.1 and 1.2, USB 2.0 and audio up to 330 ft (100 m) from the source
Supports up to 3840x2160 digital video resolution @ 30Hz
Uncrompressed Video
Supports keyboard and mouse USB 1.1
USB 2.0 Transparent
Carries DP, USB 2.0 and Audio Over a Single CAT 5e/6/6a
DisplayPort Auxiliary Bypass
Plug-and-Play Ready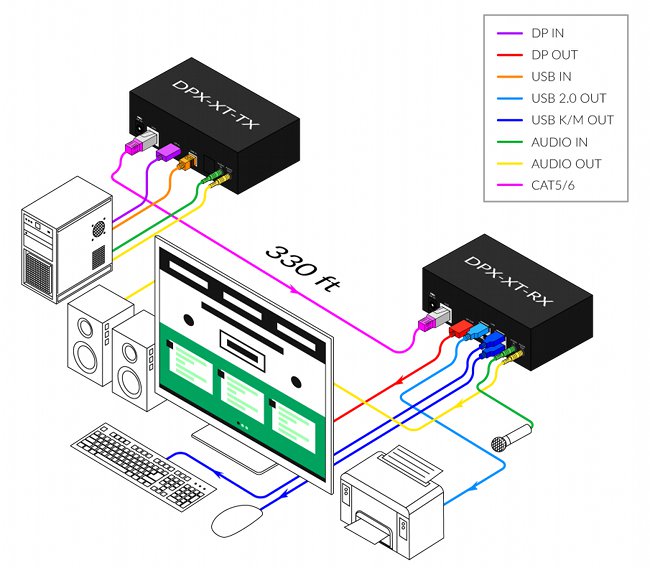 VIDEO

Format

DisplayPort 1.2

Maximum Pixel Clock

275 MHz

Input Interface (TX)

(1) DP female

Output Interface (RX)

(1) DP female

Resolution

Up to 3840x2160 @ 30Hz

DDC

via AUX

Input Equalization

Automatic

Input Cable Length

Up to 15 ft. (4,5 m)

Output Cable Length

Up to 15 ft. (4,5 m)

AUDIO

Frequency Responsee

30KHz to 80KHz

Input Interface (TX)

(1) 3.5 mm (Female)

Output Interface (RX)

(1) 3.5 mm (Female)

USB

Signal Type

USB 1.1 and USB 2.0

Input Interface (TX)

(1) USB Type B (Female)

Output Interface (RX)

(4) USB Type A (Female)

OTHER

Power

External 230 VAC/5VDC4A @20W

Dimensions

5.5" W x 1 7/8" H x 3 1/4" D

Weight

1.0 lb per TX/RX unit

Operating Temp.

0-55 °C (32-131°F)

Storage Temp.

-20-85 °C (-4-185 °F)

Humidity

Up to 95%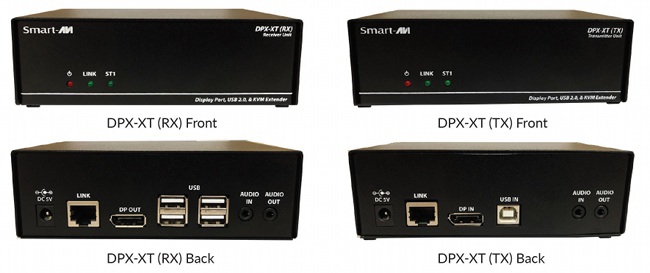 Zestawienie oferowanych urządzeń

Nazwa

Nr katalogowy

Instrukcja obsługi

Karta katalogowa

DP, USB 2.0 and audio
Includes: [DPX-XT-TX, DPX-Xt-RX, 2x (PS5VDC4A)]

DPX-XT-S

Single Head DisplayPort, USB 2.0, Audio, CAT5/5e/6 Transmitter.
Includes: [DPX-XT-TX-S, PS5VD3A-WMT]

DPX-XT-TX-S

Single Head DisplayPort, USB 2.0, Audio, CAT5/5e/6 Receiver.
Includes: [DPX-XT-RX-S, PS5VD3A-WMT]

DPX-XT-RX-S