EXTENDER PORTU HDMI Z ZASIĘGIEM 45m NA KABLU CAT6 Z LOKALNYM PORTEM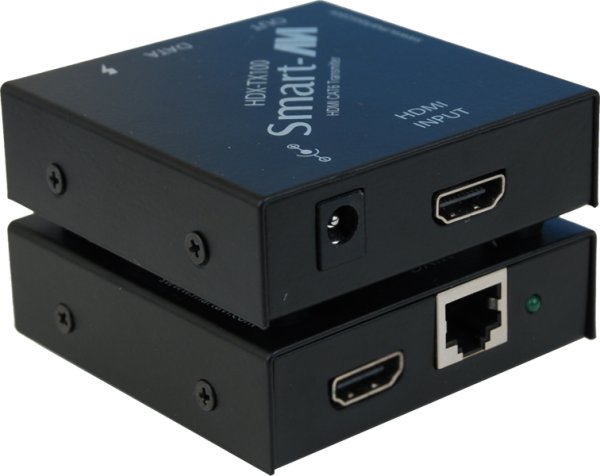 FUNKCJONALNOŚĆ

Smart-AVI's HDX-100 is an innovative solution to extending any HDMI signal – be it a gaming console, Blueray player, computer, etc. – over inexpensive CAT6 STP cabling up to 150 feet (45m) away to one remote display and one local screen for real-time monitoring of content.

This is the perfect solution for broadcasting high-definition media easily and inexpensively from a source to display screen for customers to view while keeping the CPU in a remote, secure location such as a computer room or back office of a business. Utilizing the HDX-100, you can monitor what's being shown to your customers in real-time via a local display as you retain full control over the CPU or HDMI source, accessible only by key personnel.

The HDX-100 is a compact, dynamic unit that is small and easily integrated into a digital display network such as in a retail store or bar/lounge. The transmitter and receiver units are extremely compact, which makes inclusion into your infrastructure very simple and handy.
Compact Transmitter/Receiver Units
Local HDMI Output
Perfect Image Quality at all Resolutions (1920 x 1200, 480p, 720i, 720p, 1080i, 1080p)
Video Resolutions up to 1920 x 1200 at 60Hz (1280 x 1024 at 75Hz) on all Distances to the Maximum Limit
Bandwidth to 1.64Gps
Automatic DDC Learning from Local Monitor
Unit Operates Regardless of Local Monitor Connectivity
Distances up to 150 Feet (45m) using Cat6 STP Cabling
Compatible with all Operating Systems
Plug-and-Play - No Software Required

SPECS

Video Interface

HDMI Type A 19 pin female

Resolution

1920 x 1200@60Hz or 480p/720i/720p/1080i/1080p

Color Depth

36 bit

Transmitter

(1) RJ-45 output, (1) HDMI input, (1) local HDMI output

Receiver

(1) RJ-45 input, (1) HDMI output

Dimensions

2.75"W x 3.875"L x 1"H

Weight

0.6 lbs (0,3 kg)

Bandwidth

1.65 Gps

Power Adapter

PS5VDC2A

Approvals

UL, CE. ROHS Complaint

Operating Temp

32-131°F (0-55 °C)

Storage Temp

-4-185°F (-20-85 °C)

Humidity

Up to 95%
Zestawienie oferowanych urządzeń

Nazwa

Nr katalogowy

Instrukcja obsługi

Karta katalogowa

HDMI Extender over CAT6 up to 150 feet.
Includes: [HDX-TX100, HDX-RX100 & 2x(PS-PS5VDC2A)]

HDX-100S