EXTENDER KVM Z PORTAMI DVI, USB 2.0, miniJack, ZASIĘG 150m NA KABLU CATx - 4K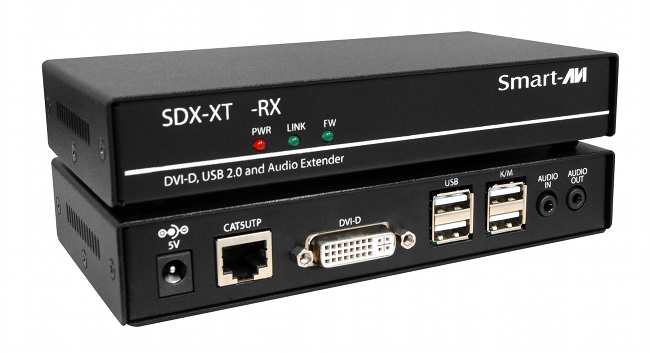 FUNKCJONALNOŚĆ
SDX-XT is a DVI-D (1920x1200), USB 2.0, USB keyboard-mouse and stereo audio extender, sending signals up to 500 feet (150m) away using CAT5/6 cables.
SDX-XT is the first extender on the market to feature 1920x1200, USB 2.0 and full KVM extension on one cohesive system. Its DVI and HDMI-adaptable 4K (3840x2160) video output is optimized for HD monitors with crystal-clear picture excellent for detaildriven work.
SDX-XT extends keyboard-mouse signals for remote workflow management and offers uninterrupted emulation from the user's transmitter unit. This uninterrupted emulation prevents accidental disconnection or deactivation issues during mission critical operation.
SDX-XT's unparalleled KVM emulation makes it the perfect solution for server extension in applications ranging from data processing to interactive conferencing.
Supports HDMI-based 2K@60Hz/4K@60Hz resolutions over CAT5/5e/6
Extend 1080p HD video up to 500ft (150 m) from its source with DVI-D
Extend 2K/4K ultra-HD video up to 240ft (80m) from its source with DVI-to-HDMI adaptor
EDID bypass
USB 2.0 device signals over CAT5/5e/6
USB keyboard-mouse emulation
Stereo audio over CAT5/5e/6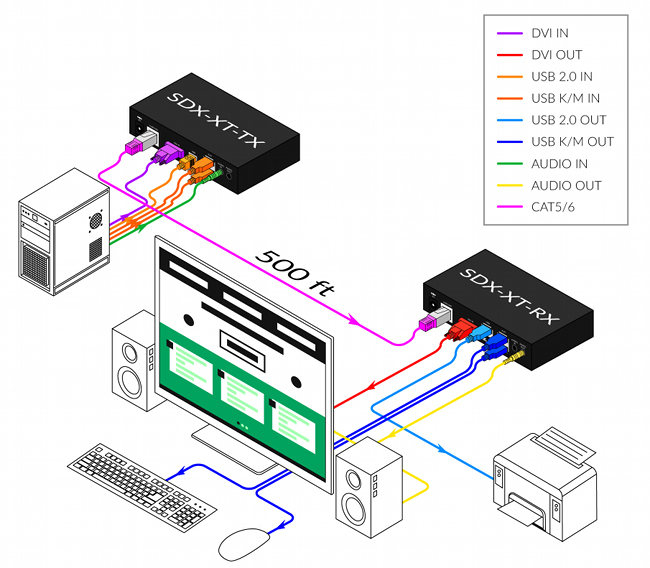 VIDEO

Format

DVI-D (HDMI-ready with adaptor)

Video Resolutions

480p, 720p, 1080i, 1080p/60Hz, 4K/60Hz (with HDMI adapter)

Video Bandwidth

Single-link 340MHz (10.2 Gbps)

Input Interface (TX)

(1) DVI-D 29-pin

Output Interface (RX)

(1) DVI-D 29-pin

Max Output Distance

1080p@60 500ft (150m)
[CAT5/5e/6] 4K2K (4:2:0 8bit) 80m (264ft) [CAT5/5e/6]

Equalization

Auto

Input TMDS Signal

1.2 Volts [peak-to-peak]

Input DDC Signal

5 Volts [peak-to-peak, TTL]

USB

Format

USB 2.0

Keyboard-Mouse

1.1 with full emulation

AUDIO

Format

Stereo

Input Interface

3.5 mm Jack Socket (Female)

Output Interface

3.5 mm Jack Socket (Female)

SYSTEM

Interface

RJ-45

Cable Requirements

CAT5/5e/6

Maximum Length

500 ft. (150m)

OTHER

Power

230VAC/5VDC4A @ 20W

Dimensions

7.8"W x 1.15"H x 3.65"D per unit

Weight

1 lbs./ 0,5 kg (0.5 lbs per unit)

Approvals

UL, CE, ROHS Compliant

Operating Temp.

32-131°F (0-55°C)

Storage Temp.

-4-185°F (-20-85°C)

Humidity

Up to 95%

Zestawienie oferowanych urządzeń

Nazwa

Nr katalogowy

Instrukcja obsługi

Karta katalogowa

DVI-D, USB 2.0, Audio, CAT5/5e/6 Extender.
Includes: [SDX-XT-TX-S, SDX-XT-RX-S, 2 X (PS5VD3A)]

SDX-XT-S

DVI-D, USB 2.0, Audio, CAT5/5e/6 Transmitter.
Includes: [SDX-XT-TX-S, PS5VD3A-WLLMNT]

SDX-XT-TX-S

DVI-D, USB 2.0, Audio, CAT5/5e/6 Receiver.
Includes: [SDX-XT-RX-S, PS5VD3A-WLLMNT]

SDX-XT-RX-S