DZIEWIĘCIOKANAŁOWY WYŚWIETLACZ VIDEO HDMI Z FUNKCJĄ KVM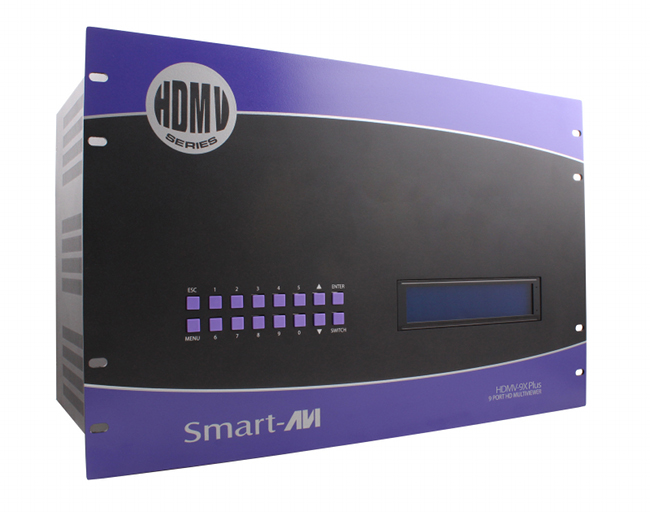 FUNKCJONALNOŚĆ

The HDMV-9X-Plus is a member of SmartAVI's HD Multiviewer series of products. It allows users to view up to nine different HD digital video sources on one display device simultaneously. HDMV-9X-Plus also supports USB KVM functionality, allowing the user to access keyboard, video and mouse operations on up to nine connected computers.
Connections to video sources are managed via HDMI connectors (or DVI-D connectors with an adaptor), with advanced viewing options such as dual-mode, quad-mode, 9-mode, and full-screen mode.
Use this device to simplify the management of multiple video sources by accessing and controlling them from a single set of controls on one display. With user-friendly KVM functionality built in, there's no better solution for complete control over nine computers and/or video sources.
Control KVM on nine connected computers
View up to nine sources on a single monitor at the press of a button
On-Screen Display (OSD) makes setup and switching easy
Display each computer with crisp high-resolution video
Supports 1080p HDMI output (1920 x 1080)
Supports DVI-D input resolutions up to 1900 x 1200 with HDMI to DVI-D adaptor
Full keyboard and mouse emulation
HDCP and HDMI 1.4 compliant
Supports EDID for total control of compliant displays
Outputs HDMI up to 20 feet
Change views with front panel switching, hot keys and RS-232, with optional Ethernet control
Quad-mode splits the screen to show four sources on one screen
Dual-mode splits the screen to show two sources on one screen
9-mode displays one all nine inputs on one screen
Video

Video Bandwidth

Single-link 340MHz [10.2Gbps]

Resolution HDTV

480i,480p,720i,720p,1080i,1080p

PC Resolution

800 x 600 up to 1920 x 1200

Input Video Signal

1.2 volts

Input DDC Signal

5 volts

Single Link Range

1080p

Format

HDMI 1.4

DVI Compliance

Single-link DVI-D 2.0 with adaptor

HDCP Compliance

1.0/2.0

Video Bandwidth

Single-link 340MHz [10.2Gbps]

Input Interface

(9) HDMI

Output Interface

HDMI

Connector

Type A [19-pin female]

USB

Input

USB 2.0, 1.1, and 1.0

Input Interface

(9) USB Type B

Keyboard

USB 1.0 (Type A)

Mouse

USB 1.0 (Type A)

Control

Front Panel

Tact Switch

RS-232

DB9 (female)

Power

Requirements

Internal 100-240 VAC

Power Supply Approvals

UL, CE, CSA, CEC, RoHS

Mechanical

Height

12 in.

Width

17.5 in.

Depth

12 in.

Weight

22 lbs.
Zestawienie oferowanych urządzeń

Nazwa

Nr katalogowy

Karta katalogowa

9-Port HDMI, USB Real-Time Multiviewer and KVM Switch.
Includes: [SM-HDMV-9X-Plus, (Power Cord)]

SM-HDMV9X-PLUS