PRZEŁĄCZNIKI TERMINALI SZEREGOWYCH Z PROTOKOŁEM SSH

FUNKCJONALNOŚĆ
The SERIMUX® Secure SSH Console Serial Switch delivers secure management of up to 32 serial devices via the internet, TCP/IP network, or dial-up modem connections. It combines the advanced security of Secure Shell v2 with unlimited access to remote network management.
Operates on a hardened Linux system.
Connect up to 32 devices with different baud rates, parity, and character length. Each switch also has one RJ45 connector for a local terminal.
Eliminates the need to connect each device to an ASCII terminal or PC.
Provides out-of-band access to network devices (servers, routers, network switches, and any other network devices allowing console operation using RS232).
Connects to console serial ports using standard CAT5/5e/6 cables and cable adapters.

Maximum cable length is 1000 feet (305 meters).

Dual Ethernet and optional dual power provide redundant connectivity and power.

Dual power option creates a redundant power system protecting the console switch from any power failure issues.

USB port provides expanded logging storage, configuration export and additional functionality.
Wysokiej jakości, wytrzymała stalowa konstrukcja obudowy malowana farbą proszkową.
Gain access to servers without interrupting service to end-users; maintain optimal up-time.
Monitor environmental conditions.

Supports two sensors, including: temperature, humidity, and water detection.

When a sensor goes out of range of a configurable threshold, the system will notify you via email, LEDs, web page, and network management (SNMP).

Power cycle without halting SUN host computer.

No inadvertent "break" signals are generated to cause unintentional rebooting of SUN computers.

Powerful diagnostic and event management features (data capture, notification and scripting) assist in the quick location of the source of equipment failures and minimize downtime.
Enhanced security features to protect the system - Secure Shell (SSH v2), individual port authentication, HTTPS.
Switching is simplified with programmable device names and menu-driven device selection.

All configuration parameters are stored in non-volatile memory.

Configuration parameters can be imported from USB Flash drive.

Firmware upgradeable "in-field" through console port, Ethernet, or an attached USB Flash drive.
1RU case is standard. Includes rack mounting kit.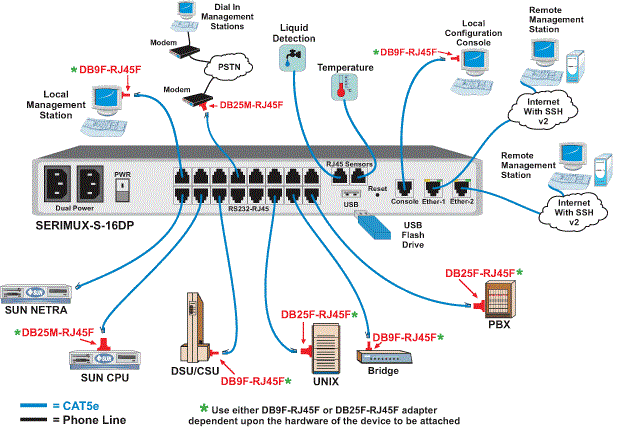 SPECYFIKACJA TECHNICZNA

Compatibility
Supports most devices with an RS232 serial port
Supports VT terminals
Serial Interface
8/16/24/32 RJ45 EIA-232 serial port connectors
One RJ45 EIA-232 console port connector
Each individual serial port is fully configurable-

All industry-standard baud rates ranging from 50 up to 115.2kbps

RTS/CTS, Xon/Xoff or both handshaking schemes

Variable character widths- 5, 6, 7, or 8 bits

Stop bits - 1 or 2, as well as Parity- Odd, Even and None

Flow Control:
Signals: RS232 CTS, DSR, RXD, GND, DCD, TXD, DTR, RTS
Modem control: DTR/DSR and RTS/CTS
Data transfer rate: up to 115.2K baud between two ports

Two ports can be at different baud rates
Network Interface
Two 10/100 Base-T Ethernet ports with RJ45 Ethernet connector
Supports both static and dynamic IP addresses
Zasilanie
Input Voltage: AC 230 V, 50 to 60 Hz (Country-specific power supply cable included.)
Optional dual AC power or dual DC power available on all models
Power Consumption
Power Consumption

Nr katalogowy

Power (W)

SERIMUX-S-8

10

SERIMUX-S-16

15

SERIMUX-S-24

15

SERIMUX-S-32

15
Adapters
Four cable adapters are included with the SERIMUX

Male DB-25F to female RJ45

Female DB-9F to female RJ45

Female DB-25M to female RJ45

Male DB-25M to female RJ45

Additional adapters available
Protocols
SSH V2, Telnet
IPV4, IPV6
TCP/IP, TFTP, DHCP, ICMP, UDP, ARP
HTTP, HTTPS, SMTP, SNMP V1/V2c, Syslog, SNTP
IPMI v2, RMCP
Alerts are sent using email, and/or SNMP traps when any monitored environmental condition exceeds a user-specified range.

Alerts are posted in message log, which is accessible through Web user interface.

Sends notifications of alerts to a maximum of 17 email addresses, and/or SNMP addresses. The users can configure the schedule when they will be alerted.
RJ45 Sensor Ports
Two RJ45 modular jacks for connecting NTI temperature/humidity and liquid detection sensors.
Internal Sensors
Temperature:

Applications from 32 to 104°F (0 to 40°C).

Accurate to within ±1.35°F (±0.75°C).

Fan:

Ability to monitor internal fan speed (24- and 32-port models only)
Memory
32 MB Flash memory
Female USB 2.0 Type A connector for storage devices
Logging & Buffering
System log, event-log of user activity and on-line data buffering
Data-logging with date and time-stamp, locally
The log can be downloaded as a tab-delimited plain text file and/or sent to an external syslog server.
Wymiary
8- and 16-port switches WxDxH (in):

16.20x9.00x1.75 (without supplied rack ears kit)

19x9.00x1.75(with supplied rack ears kit)

24- and 32-port switches WxDxH (in):

17.40x10.00x1.75 (without supplied rack ears kit)

19x10.00x1.75 (with supplied rack ears kit)
Certyfikaty
Wymagania środowiskowe
Temperatura pracy: 0°C do 40°C
Temperatura przechowywania: -30°C do 60°C
Wilgotność względna pracy i przechowywania: 17 do 90% bez efektu kondensacji
MTBF
MTBF

Nr katalogowy

MTBF (h)

Nr katalogowy

MTBF (h)

SERIMUX-S-8

43,306

SERIMUX-S-24

42,980

SERIMUX-S-8DP

108,371

SERIMUX-S-24DP

91,754

SERIMUX-S-16

44,783

SERIMUX-S-32

42,004

SERIMUX-S-16DP

100,384

SERIMUX-S-32DP

87,420
Gwarancja

DB9F-RJ45F

Adapter to connect DB-9M serial ports to a SERIMUX console switch.

DB25F-RJ45F

Adapter to connect DB-25M serial ports to a SERIMUX console switch.

DB25M-RJ45F-T

Adapter to connect DB-25F serial ports to a SERIMUX console switch.

DB25M-RJ45F-C

Adapter to connect a modem to a SERIMUX console switch.

RJ45MF-RS232-CO

For connecting two like serial devices (DCE or DTE) directly; output of one to input of the other.
Connect SUN/Cisco equipment to a SERIMUX console switch.
Serial RS232 crossover using a male RJ45 connector on one end and a female RJ45 connector on the other (Male to Female)
8P8C;
Cable Length: 6" (150 mm)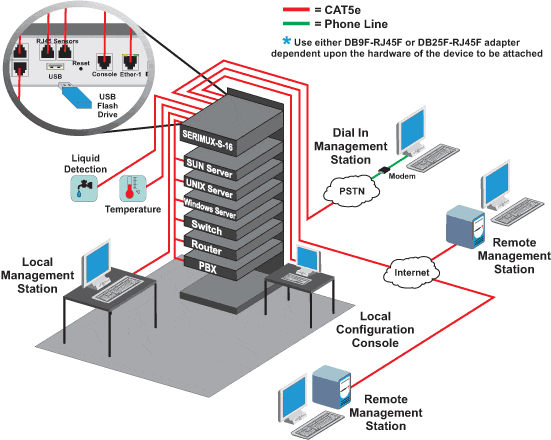 Control Methods
LED Indicators
Full featured status display via LED indicators:

Console – device connected

Ethernet – connection/speed/activity

Each Serial Port – device connected
"INT ALERT" – internal sensor goes out of range of a configurable threshold.

"EXT ALERT" – external sensor goes out of range of a configurable threshold.
Security
Local DB authentication
TLS/SSL secure communications
SSH v1, SSH v2, SSL
AES, 3DES/DES, Blowfish, Twofish, RSA, EDH-RSA, Arcfour Encryptions
Czujnik temperatury - ENVIROMUX-STS

Czujnik temperatury może być stosowany do pomiaru w zakresie od 0°C do +50°C.

Dokładność pomiaru ± 0,5°C.

Wysoka odporność na zakłócenia zewnętrzne dzięki cyfrowemu sygnałowi transmisji

Nie wymagana kalibracja po uruchomieniu.

Czujnik dołączany za pomocą patch-cordu Cat5/5e/6 o maksymalnej długości 305m. Standardowy zestaw nie zawiera kabla przyłączeniowego.

Napięcie zasilania: 5V DC

Pobór prądu: 20mA

Typ komunikacji: RS486

Przepływność: 96 kb/s

Zasilanie z modułów: ENVIROMUX-2D/5D/16D lub SERIMUX-S-x

Certyfikaty: CE, RoHS


Czujnik "kombi" - ENVIROMUX-STHSB

Czujnik"kombi" do pomiaru temperatury i wilgotności jednocześnie.

Stosowany do pomiaru temperatury w zakresie od 0°C do +85°C.

Stosowany do pomiaru wilgotności w zakresie od 0% do 90% r.H. (wilgotności względnej)

Wysoka odporność na zakłócenia zewnętrzne dzięki cyfrowemu sygnałowi transmisji
Dokładność pomiaru temperatury: ± 0,5°C w zakresie od -20 do -10°C
± 0,4°C w zakresie od -10 do 85°C
Dokładność pomiaru wilgotności: ± 3% w zakresie od 0 do 80% r.H.
± 4% w zakresie od 80% do 90%
Czujnik dołączany za pomocą patch-cordu Cat5/5e/6 o maksymalnej długości 305m.
Standardowy zestaw nie zawiera kabla przyłączeniowego.

Napięcie zasilania: 5V DC

Pobór prądu: 20mA

Typ komunikacji: RS486

Przepływność: 96 kb/s

Zasilanie z modułów: ENVIROMUX-2D/5D/16D lub SERIMUX-S-x

Certyfikaty: CE, RoHS

Czujnik wycieków - ENVIROMUX-LDSx-y

Czujnik przeznaczony dodetekcji wszelkich wycieków płynnych (z wyjątkiem dejonizowanej wody).

Detekcja wycieków o głębokości 2,5mm i średnicy 15mm

Czujnik w 100% wodoodporny.
Napięcie i prąd:

Obwód otwarty: 5VDC max @ 1µA
Obwód zamknięty: <300mV @ 10,7mA

Napięcie zasilania: 12V DC

Pobór prądu: 20mA

Czujnik dołączany za pomocą patch-cordu Cat5/5e/6 o maksymalnej długości 305m (standardowy zestaw nie zawiera kabla przyłączeniowego).

Długość przewodu czujnikowego wariantowa: 0,3m, 2m, 15m, 30m, 60m, 120m, 180m, 240m lub 300m (1/10/50/100/200/400/600/800/1000 ft.)

Długość dwu-żyłowego kabla przyłączeniowego wariantowa: 1,5m, 3m, 6m, 15m lub 30m. (5/10/20/50/100 ft.)
Zgodność parametrów z CL2P (UL)
Certyfikaty: CE, RoHS

Zaleca się użycie samoprzylepnych klipsów w celu trwałego mocowania kabla czujkowego do badanego podłoża. (ENVIROMUX-CLP10-LD - 10szt)




Zestawienie oferowanych urządzeń

Nazwa

Nr katalogowy

Instrukcja
obsługi

Karta katalogowa

Secure SSH Console Switches with Environment Monitoring
8 of Ports, Power: 230V AC

SERIMUX-S-8

Secure SSH Console Switches with Environment Monitoring
8 of Ports, Power: dual 230V AC

SERIMUX-S-8DP

Secure SSH Console Switches with Environment Monitoring
16 of Ports, Power: 230V AC

SERIMUX-S-16

Secure SSH Console Switches with Environment Monitoring16 of Ports, Power: dual 230V AC

SERIMUX-S-16DP

Secure SSH Console Switches with Environment Monitoring
24 of Ports, Power: 230V AC

SERIMUX-S-24

Secure SSH Console Switches with Environment Monitoring
24 of Ports, Power: dual 230V AC

SERIMUX-S-24DP

Secure SSH Console Switches with Environment Monitoring
32 of Ports, Power: 230V AC

SERIMUX-S-32

Secure SSH Console Switches with Environment Monitoring
32 of Ports, Power: dual 230V AC

SERIMUX-S-32DP

Adapt a modem to the SERIMUX

DB25M-RJ45F-C

Adapt DB-9M serial ports to the SERIMUX

DB9F-RJ45F

Adapt DB-25F serial ports to the SERIMUX

DB25M-RJ45F-T

Adapt DB-25M serial ports to the SERIMUX

DB25F-RJ45F

Adapter to connect SUN/Cisco RJ45 serial ports to the SERIMUX

RJ45MF-RS232-CO

Czujnik temperatury

ENVIROMUX-STS

Czujnik "kombi" - temperatury i wilgotności

ENVIROMUX-STHSB

Czujnik wycieków

x - w nr katalogowym oznacza długość przewodu czujnikowego do wyboru 0,3m, 2m, 15m, 30m, 60m, 120m, 180m, 240m lub 300m (1/10/50/100/200/400/600/800/1000 ft.)
y - w nr katalogowym oznacza długość kabla przyłączeniowego do wyboru 1,5m, 3m, 6m, 15m lub 30m. (5/10/20/50/100 ft.)

ENVIROMUX-LDSx-y