KONTROLER / STEROWNIK ŚCIAN WIDEO CZTERO-MONITOROWYCH - HDMI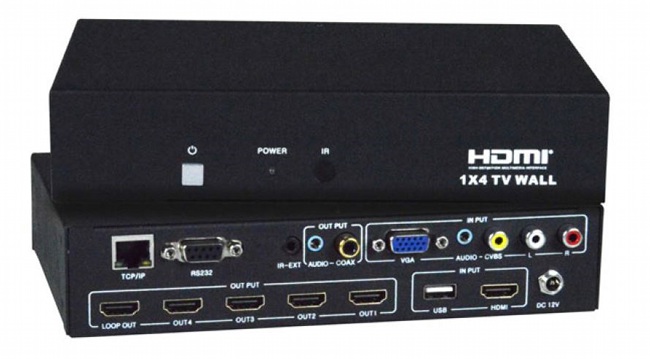 FUNKCJONALNOŚĆ
The SPLITMUX® Multi-Format HD Video Wall Controller allows you to display the video from one HDMI, VGA or composite video source across four 1080p HDMI monitors. Two processors can be cascaded to create a video wall up to 3x3 - 9 screens. Additionally, it can be used as a video splitter, video converter and video switch.
Supports video wall configurations with displays in landscape or portrait orientations.

Landscape (horizontal) orientation: 1x2, 1x3, 1x4, 2x1, 3x1, 4x1, 2x2

Portrait (vertical) orientation: 1x2, 1x3, 1x4

Cascade two processors to create video walls with up to 9 screens - 2x3, 3x2, 2x4, 4x2, and 3x3.
Versatile bezel compensation ability accommodates any screen frame width, and allows for accurate display of the image.
Independent video in to video out resolution.
Supports HDTV resolutions to 1080p.
HDMI features supported:

x.v.Color, sYCC601 color, Adobe RGB Color and Adobe YCC601 color

Dolby TrueHD, DTS-HD Master Audio, Dolby Digital, and DTS.

Bandwidth up to 225 MHz (6.75Gbps).

HDCP compatible.
Fluid, real-time video performance with 60 frames per second (fps).
Integrated USB media player - play content from a portable USB drive.
Any DVI source or display can be connected by using the DVI-HD-xx-MM cable (not included).
Control the video wall controller through Ethernet, RS232 serial port, or IR remote.
Ideal for a wide range of digital signage applications, including: retail stores, restaurants, corporate lobbies, entertainment venues, trade shows, airports, and more.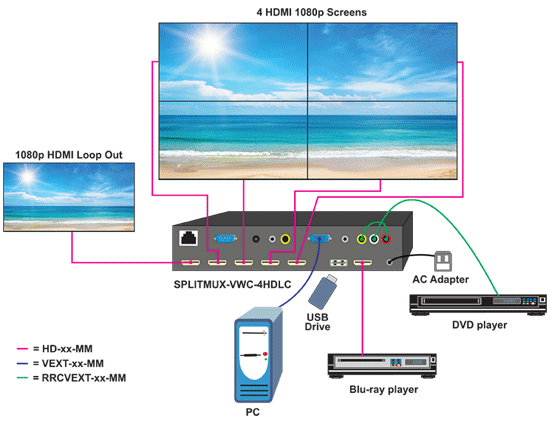 SPECYFIKACJA TECHNICZNA

Audio/Video Input
One female HDMI connector.
One female 15-pin HD connector.
One RCA composite video jack.

Supports PAL, NTSC, SECAM

One 3.5 mm stereo audio jack.
One set (R&L) RCA audio jacks.
One female USB Type A connector.

Supported file types: MPEG, H.264, RM/RMVB movie decode, JPEG, BMP, PNG Picture decode and MPEG1/2, MP3 audio decode
Audio/Video Output
Four female HDMI connectors.
One female HDMI Loop Out connector for cascading.
Supported video output resolutions: 1024x768, 720p, 1360x768, 1080p

Input resolutions will be converted to one of these user-selectable resolutions.

Supports embedded digital audio through HDMI compatible TVs or audio receivers.
One 3.5 mm stereo audio jack.
One digital coaxial (RCA) audio jack.
Control Methods
Ethernet

One female RJ45 connector.

RS232

One female DB9 connector.

IR remote control

One female 3.5mm port for IR receiver.

IR remote control and 38 KHz IR receiver cable included.
Zasilanie
Input: 100 to 240 VAC at 50 or 60 Hz via AC adapter.
Output: 12 VDC, 2A
Dimensions
WxDxH (in): 8.27x5.31x1.75 (210x135x44 mm)
Cables
Interface cables between the video source/displays and the video wall controller are required for proper operation.

Supports HDMI cables connected to the input up to 25 feet.

Supports HDMI cables connected to the outputs up to 100 feet.

Use HD-xx-MM cable to connect an HDMI source or displays.
Use DVI-HD-xx-MM cable to connect a DVI source or displays.
Use VEXT-xx-MM cable to connect a VGA source.
Use SA-xx-MM cable to connect a stereo audio source or speakers.
Use RRCVEXT-xx-MM cable to connect a composite video + stereo audio source.
Cables not included.
Wymagania środowiskowe
Temperatura pracy: 0°C do 40°C
Temperatura przechowywania: -20°C do 60°C
Wilgotność względna pracy i przechowywania: 20 do 90% bez efektu kondensacji
Certyfikaty
Warranty
Zestawienie oferowanych urządzeń

Nazwa

Nr katalogowy

Instrukcja obsługi

Karta katalogowa

Multi-Format HD Video Wall Controller

SPLITMUX-VWC-4HDLC