KONTROLER / STEROWNIK ŚCIAN WIDEO CZTERO-MONITOROWYCH - HDMI (DISPLAYPORT)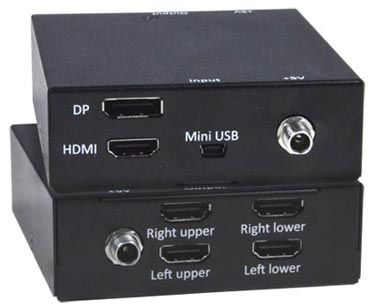 FUNKCJONALNOŚĆ
The SPLITMUX® HDMI/DisplayPort Video Wall Processor displays video from one HDMI or DisplayPort video source across four 1080p HDMI monitors to form one large screen – 2x2 video wall.
Use to create a 2x2 video wall – 4 monitors tiled together to form one large screen.
Supports 1920x1080 and 1920x1200 (WUXGA) input resolutions, and 1920x1080 output resolution (fixed for each port).
Cascade processors to create large video walls – 4x4, 8x8, 16x16, 32x32, etc.
Compliant with HDMI 1.4 and DisplayPort 1.2a specifications.
Fluid, real-time video performance with 60 frames per second (fps).
Each monitor simultaneously plays the audio.

Supported audio formats: LPCM 2/5.1/7.1, Dolby, DTS.

Any DVI source or display can be connected by using the DVI-HD-xx-MM cable (not included).
Quick and easy plug-and-play installation - no drivers or software.
Ideal for a wide range of digital signage applications, including: retail stores, restaurants, corporate lobbies, entertainment venues, trade shows, airports, and more.
NOTE: Does NOT support HDCP.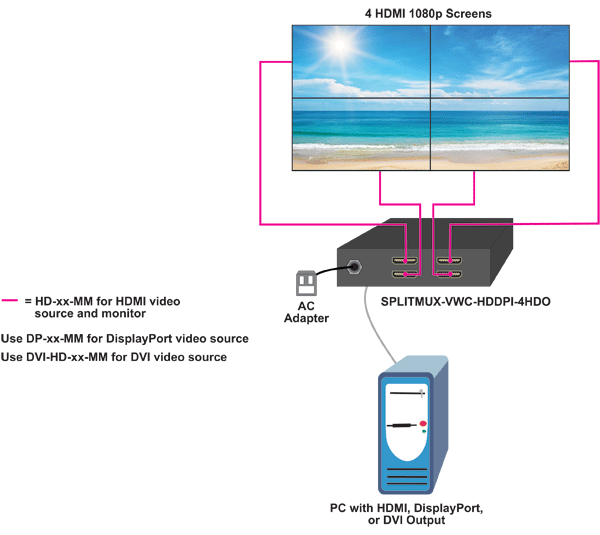 SPECYFIKACJA TECHNICZNA

Input
One female HDMI connector.
One female DisplayPort connector.
Compatible with computers and HDTV video sources (satellite receivers, DVD players, etc) with HDMI or DisplayPort video.
Supported video input resolutions:

HDTV 1080p (1920x1080 @ 60Hz)

1920x1200 @ 60Hz ((WUXGA)

One female Mini USB connector – reserved for future use.
Does NOT support HDCP.
Output
Four female HDMI connectors.
Supported video output resolutions: HDTV 1080p (1920x1080 @ 60Hz)
Supports embedded digital audio through HDMI compatible TVs or audio receivers.
Does NOT support HDCP.
Zasilanie
Input: 230 VAC at 50 or 60 Hz via AC adapter. (AC adapter included.)
Output: 5 VDC, 4A
Wymiary
WxDxH (in): 3.62x4.78x1.23 (92x122x31 mm)
Kable
Interface cables between the video source/displays and the video wall processor are required for proper operation.
Use HD-xx-MM cable to connect an HDMI source or displays.
Use DP-xx-MM cable to connect a DisplayPort source.
Use DVI-HD-xx-MM cable to connect a DVI source or displays.
Cables not included.
Wymagania środowiskowe
Temperatura pracy: 0°C do 35°C
Temperatura przechowywania: -20°C do 70°C
Wilgotność względna pracy i przechowywania: 5 do 90% bez efektu kondensacji
Gwarancja
Zestawienie oferowanych urządzeń

Nazwa

Nr katalogowy

Instrukcja obsługi

Karta katalogowa

2x2 1080p Video Wall Processor – HDMI/DisplayPort Input & HDMI Outputs

SPLITMUX-VWC-HDDPI-4HDO