KARTA GRAFICZNA PCIe Z SZEŚCIOMA WYJŚCIAMI DISPLAYPORT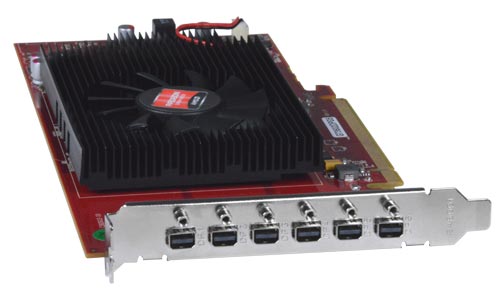 FUNKCJONALNOŚĆ
The PCIE3-4K18GB-6VW 4K DisplayPort/HDMI PCIe Graphics Card drives six monitors from a single slot on a PC with resolutions up to 4096x2160 per output. It enables the user to create video walls up to 3x2. Additionally, it can be used as a video splitter.
Drive six displays from one single-slot PCIe 3.0 x16 graphics card.

Six active mini DisplayPort outputs provide maximum AMD Eyefinity technology support.

Independent resolutions, refresh rates, color controls, and video overlays.

Supports resolutions up to Ultra-HD 4Kx2K 4:4:4 (4096x2160@60Hz) per output.
Create video wall configurations with displays in landscape or portrait orientations.

Landscape (horizontal) orientation:

AMD Eyefinity: 1x1, 1x2, 1x3,1x5, 2x1, 2x2, 3x1, 3x2, 4x1, 5x1

Microsoft Windows: 1x1, 1x2, 1x3, 1x4, 1x5, 1x6, 2x1, 2x2, 2x3, 3x1, 3x2, 4x1, 5x1, 6x1

Portrait (vertical) orientation:

AMD Eyefinity: 1x1, 1x2, 1x3, 1x5, 2x1, 2x2, 3x1, 5x1

Microsoft Windows: 1x1, 1x2, 1x3, 1x4, 1x5, 1x6, 2x1, 2x2, 2x3, 3x1, 3x2, 4x1, 5x1, 6x1

Versatile bezel compensation ability accommodates any screen frame width, and allows for accurate display of the image.
Clone content to show the same information on all displays.
4GB of GDDR5 memory provides smooth video playback and graphics performance.
Compliant with DisplayPort v1.2 specifications.
HDCP compliant.
Any HDMI display can be connected by using the DPMM-HD4K18GBF adapter cable (not included).
Ideal for a wide range of digital signage applications, including: retail stores, restaurants, corporate lobbies, entertainment venues, trade shows, airports, and more.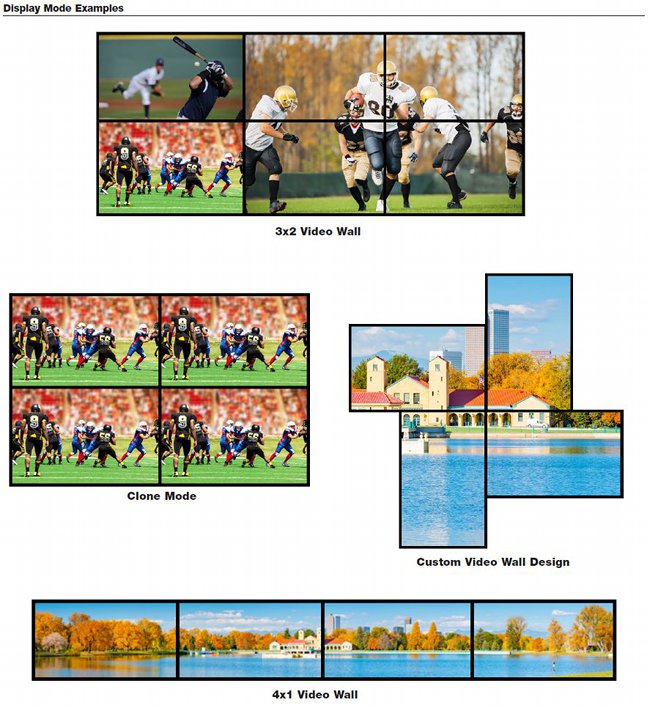 SPECYFIKACJA TECHNICZNA

GPU: AMD Radeon R7 360
GPU Core Clock: 900Mhz
Memory: 4GB GDDR5
Bus Type: PCIe 3.0 x16
Video Output: 6 female mini DisplayPort 1.2
Maximum Resolution (per monitor): 4096x2160 @60Hz
Video Bandwidth: 21.6 Gbps
HDCP compliant
Supports LPCM, AC-3, AAC, Dolby TrueHD and DTS Master Audio formats.

7.1-channel audio bitstreaming via HDMI or DisplayPort.

APIs Supported: DirectX 12, OpenGL 4.5, Vulkan, Mantle, Open CL 1.2
System Requirements
PCIe-based PC with one X16 lane graphics slot available on the motherboard.
System Power Supply Required: 500W
Operating Systems Supported:

Windows 10 32/64-bit
Windows 8.1 32/64-bit
Windows 7 32/64-bit
Windows Embedded Standard 7 32/64-bit
Windows Server 2012 R2 64-bit
Windows Server 2008 R2 64-bit
Linux
Wymiary
WxDxH (in): 4.98x8.67x0.76 (126x220x19 mm).
Form Factor: ATX
Kable
Use DPMM-HD4K18GBF 4K 18Gbps Mini DisplayPort Male to HDMI Female Adapter Cable to connect an HDMI displays to the graphics card.
Cables not included.
Certyfikaty
Gwarancja
Zestawienie oferowanych urządzeń

Nazwa

Nr katalogowy

Instrukcja obsługi

Karta katalogowa

4K DisplayPort/HDMI PCIe Graphics Card, 6-Output

PCIE3-4K18GB-6VW

4K 18Gbps Mini DisplayPort Male to HDMI Female Adapter Cable

DPMM-HD4K18GBF