EXTENDER KVM Z PORTAMI VGA, PS/2 I ZASIĘGIEM 150m NA KABLU CAT5
FUNKCJONALNOŚĆ
The SX-200 is a combination of transmitter and receiver devices designed to allow access to the PC from a keyboard, mouse, and monitor at a remote location up to 500 ft. (150 m) away. The extension is accomplished over a single CAT5 cable.
Provides remote access to the PC with keyboard, mouse and monitor.
Uses a single CAT-5 UTP cable to reduce installation costs.
Extends signal to a maximum distance of 500ft (150 m).
Supports all PC/AT and PS/2 keyboards with full emulation.
Caps Lock, Num Lock, and Scroll Lock are automatically saved and restored.
Supports full emulation and conversion on all PC/AT and PS/2 mice.
Compatible with Windows, NT, OS/2, UNIX, Linux, and other operating systems.
Supports computer monitors with resolution of up to 1600x1200.
Offers adjustable cable compensation.
Compact metal enclosure.
Supports stereo audio.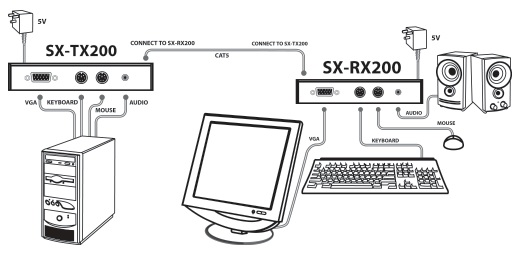 SX-200 Specifications

Signal

Analog signal: Red, Green, Blue 0.7 V p-p 75 Ohms


Resolution

640x480 1000ft (300m); 800x600 850ft (260m);
1024x768 700ft (210m); 1200x1024 600ft(180m);
1600x1200 560ft(170m).

Sync

Horizontal and Vertical TTL compatible

Bandwidth

300 MHz

Keyboard

Standard PS/2 Compatible

Mouse

Standard PS/2 Compatible

Audio

Stereo Unbalanced 3.5mm jack socket

Power

5VDC 2A

Physical

Dimensions W x D x H

159x38x95mm

Weight

.57 kg ( 1.26lb)

Enclosure Material

Aluminum
Zestawienie oferowanych urządzeń

Nazwa

Nr katalogowy

Instrukcja obsługi

Video/Audio/PS2 CAT5 Extender.
Includes: [SX-TX200, SX-RX200, (CCKVMMM06), & 2 X (PS5VDC2A)]

SX-200 S