EXTENDER KVM Z PORTAMI VGA, PS/2 I ZASIĘGIEM 300m NA KABLU CAT5
FUNKCJONALNOŚĆ
The SX-500 is a combination of transmitter and receiver devices designed to allow access to the PC from a keyboard, mouse, and monitor at a remote location up to 1000 ft. (300 m ) away.
Provides remote access to the PC with keyboard, mouse and monitor.
Uses a single CAT-5 UTP cable to reduce installation costs.
Extends signals up to 1000 ft.
Supports all PC/AT and PS/2 keyboards with full emulation.
Caps Lock, Num Lock, and Scroll Lock are automatically saved and restored.
Supports full emulation and conversion on all PC/AT and PS/2 mice.
Recognizes and supports a mix of PC/AT and PS/2 mice.
Compatible with Windows, NT, OS/2, UNIX, Linux, and other operating systems.
Supports computer monitors with resolutions of up to 1600x1200.
Offers adjustable cable compensation.
Compact metal enclosure.
Supports stereo audio.
Supports RS232 from 300bps to 19,200 bps.
Compensation for each color.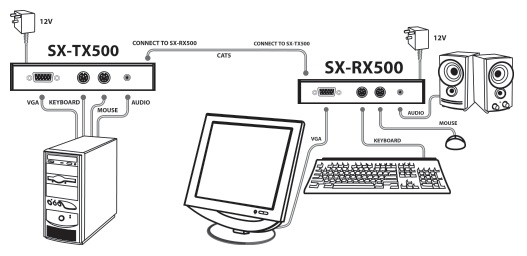 SX-500 Specifications

Signal

Analog signal: Red, Green, Blue 0.7 V p-p 75 Ohms


Resolution/ Distance

1920×1200 up to 300ft (90m), 1600×1200 up to 450ft (120m),
1280×1024 up to 650ft (200 m), 1024×768 up to 1000ft (300m)

Sync

Horizontal and Vertical TTL compatible

Bandwidth

300 MHz

Keyboard

Standard PS/2 Compatible

Mouse

Standard PS/2 Compatible

Audio

Stereo Unbalanced 3.5mm jack socket

Power

5VDC 2A

Physical

Dimensions W x D x H

6.25Wx3.75Dx1.5H

Weight

.57 kg ( 1.26lb)

Enclosure Material

Steel
Zestawienie oferowanych urządzeń

Nazwa

Nr katalogowy

Instrukcja obsługi

Video/Audio/PS2/RS-232 CAT5 Extender.
Includes: [SX-TX500, SX-RX500, (CCKVMMF06) & 2 x (PS5VDC2A)]

SX-500 S