PRZEŁĄCZNIKI KVM DO TERMINALI ZE ZŁĄCZAMI PS/2 I VGA
FUNKCJONALNOŚĆ
The KEEMUX® PS/2 KVM switch allows one keyboard, monitor and mouse to control multiple PCs (up to 128 computers). Dedicated internal microprocessors emulate keyboard and mouse presence to each attached PC 100% of the time so all computers boot error free.
Control all network computers from one office.
Auto scan all computers to catch system failures early.
Improve manageability of your computer room – eliminate extra cables, monitors, keyboards and mice.
Compatible with IntelliMouse®.
Broadcast keystrokes to all computers for simultaneous shut-downs.
Cascade smaller KVM switches together as your network grows-up to 128 ports.
Available with OSD and/or RS232 Control options.

OSD not available on 2-port switch.

SPECYFIKACJA TECHNICZNA

Hosts
Female 15-pin HD and female 6-pin miniDIN connectors.
Compatible with all PS/2-style PCs and laptops, HP9000, Silicon Graphics and IBM RS6000 workstations.
Compatible with SUN Fire V20z.
Multiplatform support: Windows 2000/XP/Vista/7/8/10, Windows Server 2000/2003/2008/2012, Linux, FreeBSD, and MAC OS 9/10.
Monitor
Female 15 pin HD connectors.
Supports 1900x1200 resolution with no degradation.
Bandwidth is 150 MHz.
Mouse
Female 6-pin miniDIN connectors.
Compatible with all standard 2-button PS/2 mice as well as the following:

Alps Glidepoint Touchpad – extended functions (i.e. tapping, etc.) are not supported.

Cirque Glidepoint Touchpad.

IBM Scroll Point mouse – extended stick functions are not supported.

Kensington Orbit Trackball.

Logitech (and other) 3-button mice.

Logitech 2-button Wheel Mouse.

Microsoft Ballpoint mouse.
Keyboard
Female 6-pin miniDIN connectors.
Keyboard and mouse presence are emulated 100% of the time so all computers boot error-free.
Keyboard and mouse are hot-pluggable.
PC switch will hard or soft boot all PCs 100% of the time.
SCROLL-, CAPS- & NUM- LOCK lights update upon switching.
Zasilanie
230 VAC at 50 or 60 Hz via AC adapter.
Two-port switches draw power from attached computers.
MTBF
Wymagania środowiskowe
Temperatura pracy: 0°C do 38°C
Temperatura przechowywania: -30°C do 60°C
Wilgotność względna pracy i przechowywania: 17 do 90% bez efektu kondensacji
Certyfikaty
Warranty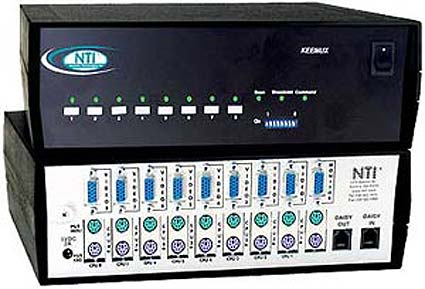 Control Methods

Front Panel Interface
Touch a button and be connected to a CPU or change modes of operation.
LEDs indicate currently selected port and mode of operation.
Hold in any button for more than two seconds to go into

Scan Mode, Broadcast Mode

or

Command Mode

.

Normal Operating Mode

, the user can directly operate the selected computer with transparent presence of the NTI switch.

Scan Mode

feature causes the switch to automatically and sequentially display the video from each powered on computer for 2-255 seconds.

Broadcast Mode

feature allows the user's keystrokes to be sent to all powered on computers.

Command Mode

allows the user to give instructions to the switch through their keyboard. Keystrokes are not passed to the computer.
Keyboard
Type

<CONTROL> + <`>

to go into

Command Mode

. (" ` " is the accent mark located on the same key as the tilde " ~ ")
Press ESCAPE to leave

Command Mode

and return to

Normal Mode

Scan Mode, Broadcast Mode

or

Command Modes

are available from the keyboard.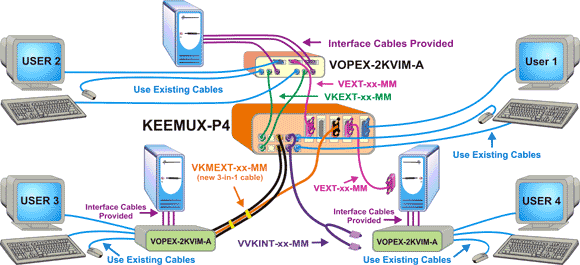 Options

RS232 Control
Control

Baud rate 300 through 9600, DIP switch selectable.

Use DIP switches to address up to 15 units, all of which can be daisy chained and controlled by one serial port.

Seven segment displays show what input is connected to each output.

Commands

:

RS – causes switch to reset so that IN1 connects to OUT1, IN2 connects to OUT2, etc.
CS – Causes one INx/OUTx connection to occur.
CA – causes all inputs to connect to specified output.
RO – reads what input is connected to specified output.
RU – Reads size of matrix, reports number of inputs and number of outputs on specified switch.

On-Screen Display (OSD)
Select computers by name with On-Screen Display (OSD). Not available on the 2-port switch.
Use keyboard or mouse to operate the switch from menus superimposed onto your monitor.
Type

<CONTROL> + <`>

to activate OSD.

Control, Scan

, and

Broadcast

functions.
View vital port information.
Search for ports by name.

Search Mode

lets the user type in the first few letters of the computer's name and the OSD will locate it.
Names can be up to 12 characters long.
View names of computers on cascaded switches up to 128 ports.
Modify the size and position of the On-Screen Display.
Help Screens assist users with the OSD.
OS and software independent.
OSD comes built into the switch – no need to install additional hardware or software.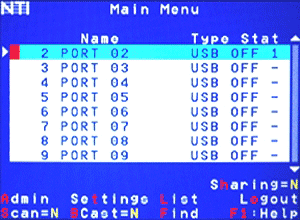 Security Features built into OSD
Advanced security included with switch.
Each user password and name can be up to 15 characters long, and each switch can store up to 63 users.
Administrator can enable or disable all security features and select which computers each user can access.
Once security is enabled, a user or administrator must login in order to access any of the computers connected to the switch.
Rackmount Enclosure
All PS/2 KVM switches are available in a rackmount enclosure.
Add "-R" to Part # for rack mounted in a 19" (483 mm) metal case.
Zestawienie oferowanych urządzeń

Nazwa

Nr katalogowy

Instrukcja obsługi

Karta katalogowa

PS/2 KVM Switch, Desktop
2 of CPUs, Size WxDxH(in.): 8x6.2x2.6

KEEMUX-P2

PS/2 KVM Switch, Desktop
4 of CPUs, Size WxDxH(in.): 10x7.5x3.3

KEEMUX-P4

PS/2 KVM Switch, Rackmount 1RU
4 of CPUs, Size WxDxH(in.): 19x12x1.75

KEEMUX-P4-R

PS/2 KVM Switch, Rackmount 1RU
8 of CPUs, Size WxDxH(in.): 19x12x1.75

KEEMUX-P8-R

PS/2 KVM Switch with RS232 Control, Desktop
4 of CPUs, Size WxDxH(in.): 10x7.5x3.3

KEEMUX-P4-RS

PS/2 KVM Switch with OSD, Desktop
8 of CPUs, Size WxDxH(in.): 10x7.5x3.3

KEEMUX-P8-O
VGA, PS/2 Keyboard & Mouse Male to Male

Nr katalogowy

Długość

VKMEXT-3-MM

0,9m (3 feet)

VKMEXT-35-MM

10,5m (35 feet)

VKMEXT-100-MM

30,0m (100 feet)
VGA, PS/2 Keyboard & Mouse Male to Female

Nr katalogowy

Długość

VKMEXT-3

0,9m (3 feet)

VKMEXT-6

1,8m (6 feet)

VKMEXT-25

7,5m (25 feet)

VKMEXT-35

10,5m (35 feet)

VKMEXT-75

22,5m (75 feet)

VKMEXT-100

30,0m (100 feet)