PRZEŁĄCZNIKI KVM TYPU "Multi-User" DO TERMINALI ZE ZŁĄCZAMI USB I VGA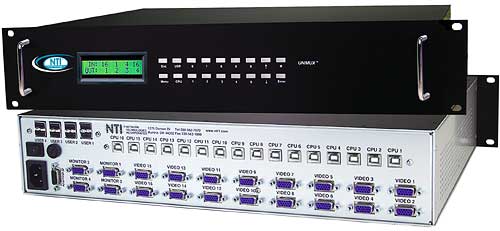 FUNKCJONALNOŚĆ
The UNIMUX™ USB KVM Matrix switch allows up to eight users to individually command or simultaneously share up to 32 USB computers. Access USB-enabled PC, SUN, and MAC computers using USB keyboards and mice, and VGA multiscan monitors.
USB host computers and USB devices can be hot-plugged or removed at any time. Allows any USB device (keyboard and/or mouse) to control any attached USB host computer. International keyboard layouts are supported in auto-detection mode, or can be manually selected via the On Screen Display (OSD) menu.
Equipped with OSD, Liquid Crystal Display, and RS232.
Rackmount is standard on all UNIMUX-nXm-U models.
Dedicated microprocessors prevent computers from locking up, ensuring reliable control.
Fully compliant with USB standards (1.0, 1.1).
The advanced OSD user interface with password security makes the UNIMUX USB KVM Matrix Switch simple and reliable to use in Enterprise data centers.
Computers can be shared or used exclusively.
Crestron® compatible.


SPECYFIKACJA TECHNICZNA

Hosts
Female 15-pin HD and female USB Type B connectors.
Multiplatform support: Windows 2000/XP/Vista/7/8/10, Windows Server 2000/2003/2008/2012/2016/2019, Solaris, Linux, FreeBSD, and MAC OS 9/10.
Supports PCs with USB-enabled OS (Windows 98/ME/2000/XP, Windows Server 2003, Linux) and USB ports.
Supports PCs with USB-enabled BIOS (legacy USB support) and USB ports.
Supports SUN Blade 100, SUN Blade 1000, SUN Fire™ 240 and SUN Ray.
Supports MAC G4, G5 and Xserve.
Supports MAC soft (keyboard) power-on.
Any legacy PS/2 or SUN computer can be connected by using a USB-PS2-R or USB-SUN-R adapter.
Monitor
Crisp and clear 1900x1200 resolution.
Female 15-pin HD connectors.
A multiscan VGA monitor is required to display the different video outputs from different platforms.
Bandwidth is 150 MHz.
Cables
Interface cables between your computers and the switch are required for proper operation. Use USBVEXT-xx-MM and standard interface cables to connect switches to computers.
Cables not included.
Wymagania środowiskowe
Temperatura pracy: 0°C do 38°C
Temperatura przechowywania: -30°C do 60°C
Wilgotność względna pracy i przechowywania: 17 do 90% bez efektu kondensacji
Devices
Female USB Type A connectors for keyboards and mice.
Compatible with most USB keyboards and mice, including Microsoft USB Intellimouse®, Logitech Cordless Elite Duo keyboard and mouse, Gyration keyboard/mouse, Crystal Vision keyboard with touchpad, and iKey DI-5K USB.
Keyboard and mouse are hot-pluggable.
USB MAC and SUN startup keys are supported on all platforms of input devices.
Keystrokes are translated across platforms.
Zasilanie
230 VAC at 50 or 60 Hz
Power consumption:

UNIMUX-2X8 : 10W
UNIMUX-4X16 : 25W
UNIMUX-8X8 : 25W

Use the PWR-48V-5V DC-DC power converter to install the UNIMUX-nXm-U in a Telecom environment.
MTBF
MTBF

Nr katalogowy

MTBF (h)

Nr katalogowy

MTBF (h)

UNIMUX-2X8-U

58 644

UNIMUX-4X16-U

50 289

UNIMUX-8x8-U

41 112
Certyfikaty
Warranty
Compatible NTI Products
Combine NTI emulators and switches for complex applications.

VGA EDID Emulator (VGA-EDID-EMLTR)

Control Methods

Keyboard
Type

<Ctrl>

+ <`>

to go into

Command Mode

.
Press

<ESC>

to leave

Command Mode

and return to

Normal Mode

.
Use the keyboard to command the switchbox to select ports or configure the

Scan, Sharing

and

Broadcast Modes.

Normal Operating Mode

allows the user to directly operate the selected computer with a transparent presence of the NTI switch.

Sharing Mode

allows users to share the same computer.

Command Mode

allows the user to give instructions to the switch through their keyboard. Keystrokes are not passed to the computer.

Scan Mode

feature causes the switch to automatically and sequentially display the video from each selected powered on computer for a duration of 2-255 seconds (programmable by the user).

Broadcast Mode

allows the user's keystrokes to be sent to all selected powered on computers.
Front Panel Interface
Locally change ports with front panel buttons.
Use front panel buttons to move through LCD screens and execute actions.
LCD indicates currently selected port for each user.
Use buttons to configure RS232 control.

Change baud rates for RS232.
Download Matrix Switcher Control Program
On Screen Display - OSD
Standard feature on the rackmount units.
Use keyboard or mouse to operate the switch from menus superimposed onto your monitor.
Type

<CONTROL>

+

<`>

to activate OSD.

Control, Scan, & Broadcast

functions.
View vital port information.
Search for ports by name.

Search Mode

lets the user type in the first few letters of the computer's name and the OSD will locate it.
Names can be up to 12 characters long.
Shows names of computers on cascaded switches up to 128 ports.
Displays the computer's platform next to its name.
Modify the size and position of the OSD.
Help Screens assist users with the OSD.
OS- and software-independent.
Our OSD comes built into your switch, so you do not have to install additional hardware or software.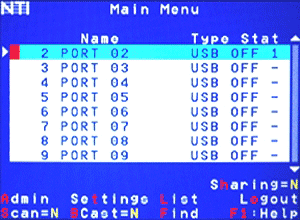 Security Features built into OSD
Advanced security included with switch.
Each user password & name can be up to 15 characters long, and each switch can store up to 63 users.
Administrator can enable or disable all security features and select which computers each user can access.
Once security is enabled, a user or administrator must "login" in order to access any of the computers connected to the switch.
RS232 Control
Standard feature on the rackmount units.
Female DB9 connector.
Baud rate 300 through 9600, DIP switch selectable.
Use DIP switches to address up to 15 units, all of which can be daisy-chained and controlled by one serial port.
Seven segment displays show what input is connected to each output.
Commands:

RS - causes switch to reset so that IN1 connects to OUT1, IN2 connects to OUT2.

CS - causes one INx/OUTx connection to occur.

CA - causes all inputs to connect to specified output.

RO - reads what input is connected to specified output.

RU - reads size of matrix, reports number of inputs and number of outputs on specified switch.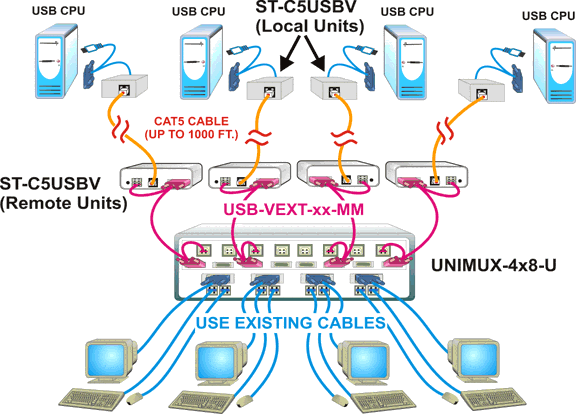 Zestawienie oferowanych urządzeń

Nazwa

Nr katalogowy

Instrukcja obsługi

Karta katalogowa

USB KVM Matrix Switch
2 of Users, 8 of CPUs
Weight (lbs) : 5
Rack Units 1RU - WxDxH (in.) 19x10x1.75

UNIMUX-2X8-U

USB KVM Matrix Switch
4 of Users, 16 of CPUs
Weight (lbs) : 9
Rack Units 2RU - WxDxH (in.) 19x12x3.5

UNIMUX-4X16-U

USB KVM Matrix Switch
8 of Users, 8 of CPUs
Weight (lbs) : 11
Rack Units 3RU - WxDxH (in.) 19x12x5.25

UNIMUX-8x8-U
Kabel z wtykami: "męskimi" VGA,
i "męskimi" USB A na USB B

Nr katalogowy

Długość

USBVEXT-6-MM

1,8m (6 feet)

USBVEXT-15-MM

4,5m (15 feet)