OPTYCZNY AKTYWNY KABEL HDMI 4K - ZASIĘG 100m (low cost)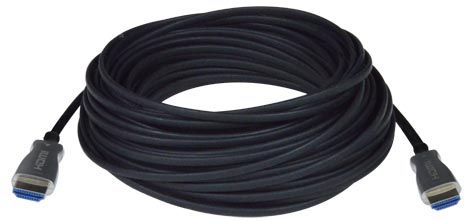 FUNKCJONALNOŚĆ

The XTENDEX® Low-Cost 4K HDMI Active Optical Cable locates an Ultra-HD 4Kx2K 60Hz 4:4:4 HDMI display up to 100 meters (328 feet) from a video source. Using optical fiber, the HD4K18GB-FO-xxM-MMLC provides high reliability HDMI signal transmission with zero signal loss in high noise environments.
High speed and long distance transmission by optical system up to 100 meters (328 feet).

Hybrid cable containing both fiber optic and copper cores.

Supports Ultra-HD 4Kx2K resolutions to 3840x2160 and 4096x2160 @60Hz YUV 4:4:4, and HDTV resolutions to 1080p @144Hz.
No loss of signal – delivering crystal clear digital images instantly.
No external power required.
HDMI features supported:

HDMI 2.0
Up to 16-bit Color and 48-bit Deep Color
YCbCr 4:4:4, YCbCr 4:2:2, YCbCr 4:2:0, and RGB
Dolby TrueHD, DTS-HD Master Audio, Dolby Digital, DTS Dolby, and LPCM 7.1.
Bandwidth up to 18Gbps
Supports ARC, HDR, and CEC
3D
Lip Sync

HDCP 2.2 compliant.
Optical fibers immune to signal noise.
Low RFI/EMI for sensitive applications.
Supports Plug-n-Play specification.
EDID learning for the support of any HDMI display device.
Thin and ultra-lightweight construction.
Ideal solution for many applications, including:

Digital Signage
Medical Imaging Equipment
Airplane On-board Video System
Home Theater
TV Broadcast Station
Conference Room Video Equipment

These cables are directional. See labeled connector ends.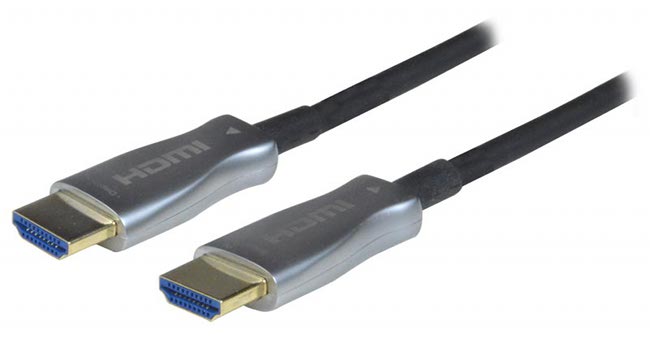 SPECYFIKACJA TECHNICZNA

Connectors: Male HDMI Type A connectors.

These cables are directional. See labeled connector ends.

Resolutions: supports resolutions up to Ultra-HD 4Kx2K 4:4:4 (4096x2160 and 3840x2160) @60Hz, and HDTV to 1080p @144Hz.
Supports HDCP 2.2/1.4.
Video bandwidth: 18Gbps
Cable Diameter: 5.8 mm (0.23 in)
Connector Width: 18.7mm (0.74 in)
Bend Radius: up to 20mm (0.78 in)
Cable construction: 4 fiber cores and 7 copper conductors
Cable jacket: PVC
Available lengths: 10/15/20/25/30/50/70/100 meters
Wymagania środowiskowe
Temperatura pracy: -40°C do 70°C
Certyfikaty
Gwarancja
Zestawienie oferowanych urządzeń

Nazwa

Nr katalogowy

Długość

Karta katalogowa

Low-Cost 4K 18Gbps HDMI Active Optical Cable – RoHS Compliant

HD4K18GB-FO-10M-MMLC

10m

HD4K18GB-FO-15M-MMLC

15m

HD4K18GB-FO-20M-MMLC

20m

HD4K18GB-FO-25M-MMLC

25m

HD4K18GB-FO-30M-MMLC

30m

HD4K18GB-FO-50M-MMLC

50m

HD4K18GB-FO-70M-MMLC

70m

HD4K18GB-FO-100M-MMLC

100m