KONTROLER / STEROWNIK ŚCIAN WIDEO WIELO-MONITOROWYCH HDMI / DVI - MXWall-LT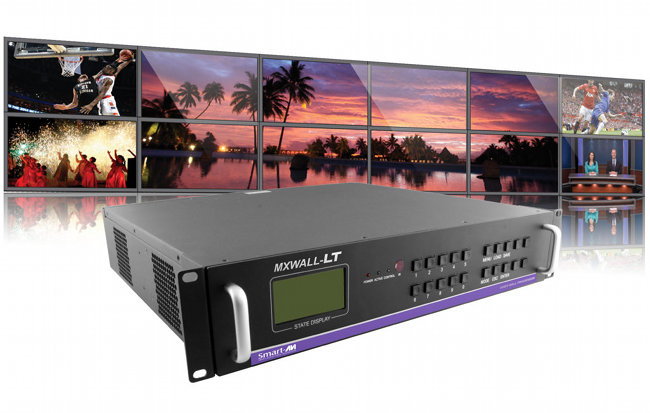 FUNKCJONALNOŚĆ

The MXWall-LT is a video wall processor and matrix switch with 4 HDMI inputs and a maximum of 12 DVI outputs. Compact, plug-and-play, and excellent for mid-sized video wall displays between 4-12 screens with resolutions up to 1080p (1920×1080 @ 60Hz) Full HD.
The MXWall-LT is simple to control, outfitted with easy front-panel buttons and optional RS-232 control. Better still, the MXWall-LT comes with SmartAVI's intuitive MXWall Manager software absolutely free! MXWall Manager software let's users manually create and adjust their ideal video wall displays using simple click-and-drag operation: it's fun and great for users of any technical skill level!
Users can choose from a number of great per-configured screen modes as well, displaying content in full video wall, four-screen quad, and individual screen modes with the press of a button. The MXWall-LT also features TCP/IP web control for LAN-connected units, so users can control the contents of the video wall from the comfort of a PC workstation.
Complete, Real-Time Hardware Solution
Plug-and-play ready
(4 -8) HDMI or DVI inputs
(Up to 12) HDMI or DVI outputs
Output resolution up to 1080p (1920×1080 @ 60Hz)
Supports RS-232 and TCP/IP
Reliable 24/7 Uninterrupted Use
Flexible video wall modes
Easy control (front-panel buttons, software, and optional RS-232)
HDCP and HDMI 1.4 compliant
Includes user-friendly MXWall Manager Software: FREE!
Integrated scaler
For 4x8, 8x8, and 4x12 video wall setups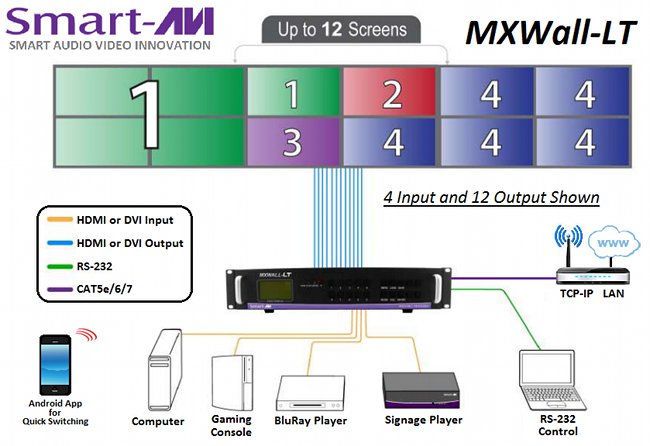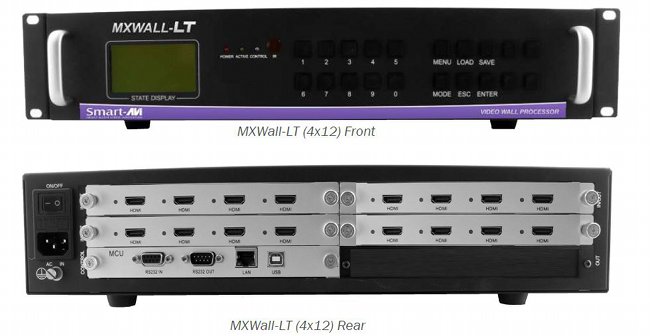 VIDEO

Video Amplifier Bandwidth

3.2G

Input Video Signal

Video (TMDS) 0.5~1.0Vpp

Input DDC Signal

5 volts

Compliances

HDMI 1.4 and HDCP compliant

Pixel Rates

Clock frequency beyond 165Mpix/second

Format

4:4:4 and 4:2:2 data input formats

Resolution

480p, 720p, 1080i, 1080p

Input Card Format

4-port HDMI card

Output Card Format

4-port HDMI card

Input Slots

Up to 8 (2 cards)

Output Slots

Up to 12 (3 cards)

Video Type

RGB/YCBCR : 24/30/36-bits,YCBCR: 8/10/12/16/20/24-bits

CONTROL

Front

Front-panel tactile switch buttons

RS-232

9600bps, Software flow DB9 Female

TCP/IP

Telnet

OTHER

Working Temperature

0°C~+55°C

Storage Humidity

10%~90%

Weight

20 lbs. (9 kg)

Dimensions

17 in (W) x 3.5 in (H) x 15 in (D)

Power Supply

50/60Hz, 230 VAC

Consumption

300W

MXWALL MANAGER SOFTWARE

Operating System

Windows 7-10, Android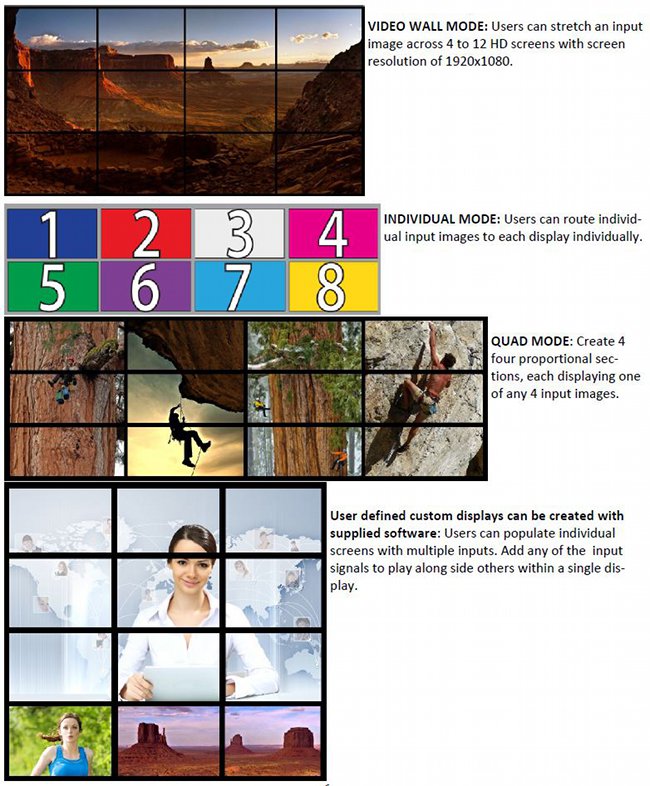 Zestawienie oferowanych urządzeń

Nazwa

Nr katalogowy

Karta katalogowa

Instrukcja obsługi

4-Input 8-Output Video Wall Processor and Matrix Switch.
Includes: [MXWall-LT-0408; (CCPWR06)]

MXWall-LT-0408-S

4-Input 12-Output Video Wall Processor and Matrix Switch.
Includes: [MXWall-LT-0412; (CCPWR06)]

MXWall-LT-0412-S

8-Input 8-Output Video Wall Processor and Matrix Switch.
Includes: [MXWall-LT-0808; (CCPWR06)]

MXWall-LT-0808-S

8-Input 4-Output Video Wall Processor and Matrix Switch.
Includes: [MXWall-LT-0804; (CCPWR06)]

MXWall-LT-0804-S

12-Input 4-Output Video Wall Processor and Matrix Switch.
Includes: [MXWall-LT-1204; (CCPWR06)]

MXWall-LT-1204-S